Out of the Box: Talk N Train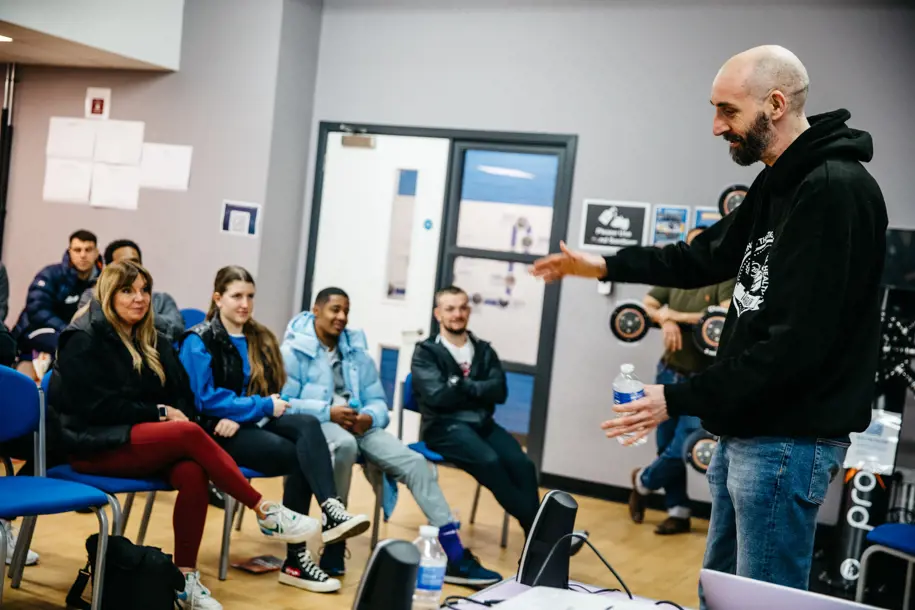 Empire Fighting Chance, in partnership with England Boxing, is developing a formidable network of boxing clubs. Our expert training and unwavering support empower these clubs to increase their impact and combat the challenges faced by young people in towns and cities across the country.
Last year we worked alongside England Boxing to train our first 15 amateur boxing clubs to deliver our psychologically informed programmes to young people across eight regions of the country.
Then earlier this month, we hosted another training cohort of five boxing clubs at our Bristol gym:
Boxing Clever in Milton Keynes
Atlas Boxing in Leicester
East Middlesbrough ABC
Tyneside Boxing in Newcastle
Birch Green ABC in Skelmersdale
We're partnering with clubs who want to transform the role they play in their communities and become more than just a gym.
Our partner clubs are now sharing their stories as they make progress in delivering our programme to improve local young lives through the power of boxing.
Today, we head to Talk N Train in Rotherham.
Their story
Talk N Train is a boxing and fitness project based in Rotherham, set up to help improve mental health through boxing. The project is a partnership between Millennium Boxing and Dinnington Community Boxing Group.
The group has been delivering free boxing classes aiming to fight the stigma of talking about mental health, and to improve their community's physical and mental wellbeing.
Initially set up by good friends John Shaw and Jamie Kennedy of Millennium Boxing, their priority was to improve the mental health of Rotherham, but they also wanted to improve the image of the town and help their local community.
John Shaw said "A few years ago a very good friend took his own life. I witnessed the devastation left behind and vowed that in future I would try to remove the stigma surrounding mental health. I was asked to assist with a men's talk group 'Men Actually Talking Together' or MATT. This was based at Rotherham Rugby Club. It was named after Matt, a guy who played for Rotherham that sadly took his own life.
"MATT does amazing things but tends to attract older men. But in Rotherham, younger men and women have many challenges in life. It's one of the most deprived areas in the country and many suffer silently with their general wellbeing and mental health.
"I've always used exercise and sport as a way of keeping myself mentally balanced and wanted to start a mental health group based around talking and exercise. I've known Jamie Kennedy for years and have trained with him. I consider him a rock-solid trusted friend and knew how much he cared about our community".
Talk N Train has been running two sessions per week at Millennium Gym, run by Simon Davies and Ian Huddleston of Dinnington Community Boxing. The sessions are aimed at everyone no matter what their level of fitness or boxing ability, and they have been seeing some progress being made with some of their users who suffered with anxiety, low self-esteem and depression.
John says, "Jamie has the same mindset as me, so I approached him with the idea. He was on board immediately and came up with the name 'Talk N Train'. We had no idea what direction it would take us in, but our aim was to use it as a vehicle to improve the general wellbeing and mental health of everyone who not only came to sessions but also those who followed us on social media."
The group has now grown and started working with Dinnington Community Boxing Group, with Ian Huddleston taking on the project full time as development manager of the project. They are now delivering sessions at the Dinnington Resource Centre. These have given the project the opportunity to work with more people across the borough and they are now working with the NHS and Voluntary Action Rotherham link workers to refer clients of all ages.
Extending their reach to young people was always part of the plan for Talk N Train.  The group has been working with students from Dinnington High School outside of mainstream lessons to re-engage students, get them to open up about their mental health and ultimately get them back into mainstream education so that they can succeed both in and out of school. 
The group have also now set up an academy at Millennium Boxing Gym. They are now working with well over 100 young people per week through the academy and the school programme.
Why partner with Empire Fighting Chance?
Ian Huddleston said, "When the opportunity came up to work with Empire Fighting Chance, Talk N Train was growing rapidly. We had come a long way in such a short amount of time after previously relying on volunteers to run the sessions. DC Boxing was growing across the community, and working with Millennium Boxing it was the perfect marriage for us to push forward and develop Talk N Train. Now, Empire Fighting Chance have a provided us with a model we are looking to recreate within our community.
"We will be using the experiences Empire offers us to look at approaching schools around Rotherham in order to expand the project and impact more lives. We hope to instil in young people a work ethic, confidence and support which can help them with their studies and push on to gain employment or go onto college".
Progress in the partnership
The Talk N Train team first attended the Empire Fighting Chance training days in June 2022. Ian then attended the latest training cohort in Bristol in March 2023, where he spoke to other clubs about the work they have been doing with Empire over the last nine months. Ian was able to share their experience and help other clubs who are just starting on their journey.
Since partnering with Empire, Talk N Train have started developing their own programme, inspired by Empire's Box Champions programme. The project has successfully secured funding from the local violence reduction unit, the South Yorkshire Crime Commissioner, and the National Lottery, totalling over £100,000.
Ian said, "Partnering with Empire Fighting Chance has improved my approach to the day-to-day running of the organisation. Working with Aaron [Empire's Growth and Development Manager] has been great. He has been very supportive in helping get our programme together, including providing questionnaires, support with data analysis, and getting us set up with the Upshot CRM system to monitor impact. This has helped take our project to the next level.
"Since partnering with Empire, we have been successful in securing funding, which Aaron supported with, and we have taken inspiration from Empire's psychology to improve our programmes for young people."
What the future holds
The next step is to gain charity status for Talk N Train. The team is looking to develop their programme for young people further by delivering in more schools, employing more coaches, and impacting more lives in the Rotherham area. They will be looking for more funding so they can grow sustainably, and continue to develop their partnership with Empire Fighting Chance.
---
Is your club interested in partnering with Empire Fighting Chance to change young lives in your area?
To learn more about the Powered by Empire Fighting Chance network, please complete an expression of interest form. Or, for more information, please contact Aaron Morten, Growth and Development Manager, at [email protected]