Out of the Box: Seconds Out Boxing Academy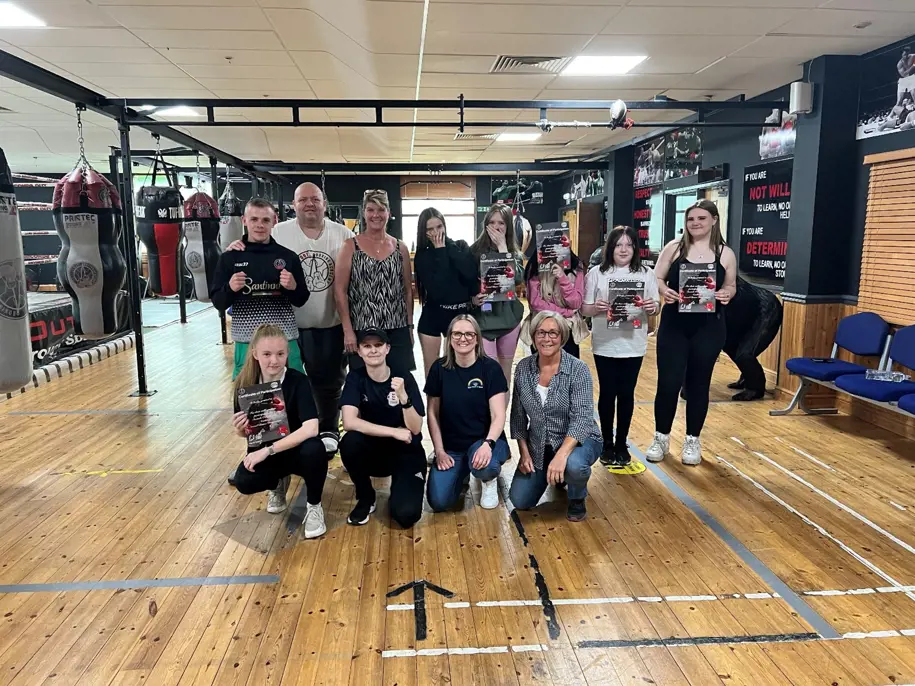 In the latest of our series showcasing our partner clubs around England, today we head to County Durham, to find out how Seconds Out Boxing Academy are transforming the role they play in their local community. 
Empire Fighting Chance, in partnership with England Boxing, is developing a formidable network of boxing clubs.
Since the partnership began in March 2022, 21 boxing clubs across England have joined our Powered by Empire Fighting Chance network. In its first year, these clubs worked with 3,875 of the hardest to reach young people.
We deliver a two-day training course at our Bristol gym covering topics such as how to deliver our Box Champions programme, the use of psychology, operations management, community engagement, school sales, data collection, and impact monitoring. Every boxing club leaves Bristol with a bespoke action plan that they are guided through with ongoing support for at least twelve months.
Our partner clubs are now sharing their stories as they make progress in delivering our programme to improve local young lives through the power of boxing.
Today, we head to Seconds Out Boxing Academy in Ferryhill, County Durham.
THEIR STORY
Seconds Out Boxing Academy was founded by Paul Eddy in 2013 with the aim of engaging young people in the community through sport. Paul's goal was to work with young people who were excluded or disengaged from school and use the power of boxing to reengage them.
The club prides itself on nurturing young talent – not only in the ring but also by giving them opportunities to lead the next generation of boxers.
The club has several young coaches from the community who once boxed for the club, including Neve Lawson. Neve has been coaching at Seconds Out for five years and is grateful for the opportunities the club has given her. Neve says, "The club has been a constant in my life. I love coming down to the club and seeing the team, it has fast become a second family to me".
WHY PARTNER WITH EMPIRE?
Seconds Out were already delivering 'preventive intervention' boxing sessions in schools in the County Durham region, including Woodham High School, prior to joining the Powered by Empire Fighting Chance network.
Club founder, Paul, says, "Although we were already delivering sessions in school, we were lacking structure and direction. After hearing about Empire Fighting Chance, it was a no-brainer to reach out and seek their support. We were looking to gain expertise in areas such as programme development and data collection.
"To the have the opportunity to work with others who have similar goals and ambitions was a great opportunity for the club".
PROGRESS IN THE PARTNERSHIP
Since partnering with Empire Fighting Chance, the club have been working to develop a firm offering for young people in their community.
The club identified that antisocial behaviour was a serious issue in the community and saw that their boxing club had the potential to combat it, with the reputation it already had as a place of safety and Paul and his team worked hard to create a structure to offer all under-sixteens in the community free boxing sessions. The club now runs five hours of free boxing sessions a week, which ninety young people attend. When combined with other junior boxing sessions, they work with around 150 young people every week.
Seconds Out have also been developing their delivery of sessions in schools, using Empire's Box Champions programme as a framework. They have also been delivering Box Champions for two groups from With Youth in Mind, a peer support group for young people who have been victims of knife crime. They have seen a real improvement among those they worked with in terms of confidence, resilience, and motivation.
One 13-year-old said, "I loved the boxing, I felt a lot more confident in myself and I challenge myself, which I wouldn't normally do," and another commented, "Absolutely amazing fitness. Tested and constantly pushed to see what I could and couldn't achieve. Loved every week of it."
When it comes to data and impact collection, Paul feels this is the area where the club has developed the most since partnering with Empire. Previously the club were not collating any information and didn't have any appropriate systems in place. Empire Fighting Chance have shared all data and impact resources and set the club up on the monitoring and evaluation system, Upshot.
Paul said, "The support from the Empire Fighting Chance team has been second to none. They are always there at the end of the phone when I need them, the constant support is unrivalled. It's been nice to hear I have been doing things right, but also nice to be challenged."
WHAT THE FUTURE HOLDS
Now the club has a firm, consistent offering for young people in their community, Paul and his team want to deliver Box Champions in more schools to increase their impact.
The club recognises the importance of building relationships in the community and wants to work closer with local partners, such as the police and the youth offending team.
Further down the line, Paul has ambitions of employing boxing coaches on full-time salaries. Committed to serving his community, for these roles he hopes to hire local young people who have trained at the club.
We're excited to see what's in store for Seconds Out and are thrilled to be part of their journey.
IS YOUR CLUB INTERESTED IN PARTNERING WITH EMPIRE FIGHTING CHANCE?
To learn more about the Powered by Empire Fighting Chance network, please complete an expression of interest form. Or, for more information, please contact Aaron Morten, Growth and Development Manager, at [email protected]