Someone like me: Relatable role models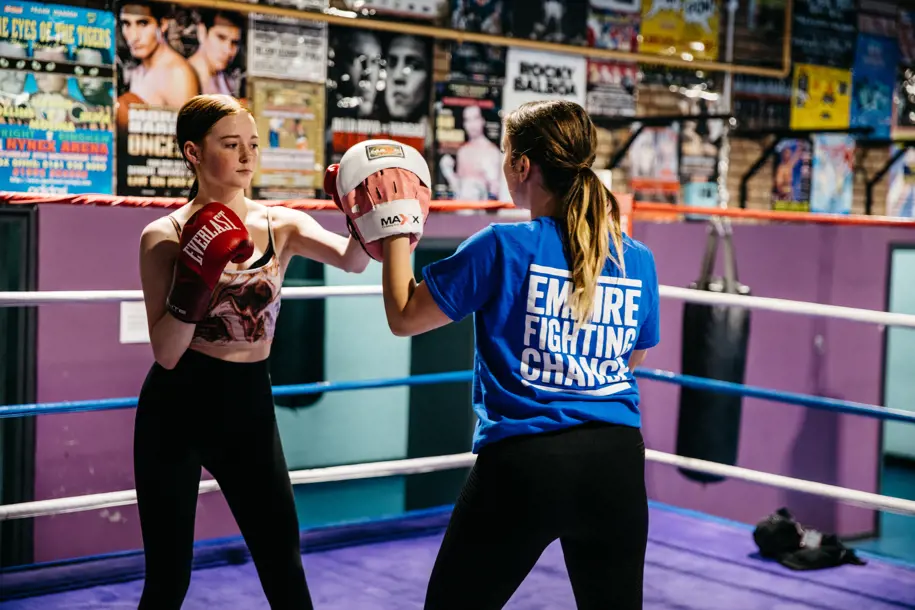 Growing up, many of us will recall having an adult in our life who we could trust, other than our parents or carers. That may have been a teacher, a youth worker, a sports coach, a mentor, a family friend, or even another relative.
The most valuable part of these relationships is that they provide a safe space for a young person to open up about the issues they face without fear of judgement. And that is all down to trust.
However, some young people lack a trusted adult relationship throughout their formative years. Instead, their relationships with adults may be characterised by inconsistency, neglect, and violence. Lacking positive adult role models, and those with whom they can feel safe, these young people can feel isolated, let down, and ultimately lose their trust in authority figures.
Empire Fighting Chance's diverse team of young and relatable coaches and therapists dressed in hoodies and joggers challenge young people's perceptions of how adults can be. Having often faced challenges in their own lives, our team uses their lived experience and the sport of boxing to build a rapport with young people, encouraging them to relax, drop their guard, and open up. Through this process, individuals become more receptive to support for making positive changes in their lives.
As one Box Champions participant, Leaha, said, "I don't see her as a coach, I just see her as a friend. But the stuff I talk to her about I can't talk about with my friends."
Lived experience is one of the things which sets Empire apart from many other organisations working with young people and is one of the keys to our success.
LIVED EXPERIENCE IN ACTION
To get a better understand of how the trust-building process works, we spoke to Box Therapy therapist, Simone, about how she uses her lived experience to engage with young people.
"The reason I studied Occupational Therapy was because I'd made a promise to my self when I was younger that I would be there for young people like me who are struggling," says Simone. Her own childhood was marred by emotional and physical turmoil, but Simone lacked support and adults who she could feel safe with. That's what brought her to Empire Fighting Chance – an ambition to use her own experiences to be a supportive role model to vulnerable young people.
Simone begins the twelve-week Box Therapy programme by letting young people know that she has been through hardship herself, "As soon as I tell them, I can see an immediate shift in their face, like they suddenly realise 'she knows what it's like to be me'. Young people are so good at sussing out inauthenticity – but with me they know I've really gone through stuff".
Despite the difficult start to Simone's life, she overcame major obstacles to go to university, land a job she loves and meet a brilliant group of friends. Acting as a role model to the young people she works with, she says, "I tell them, 'if I got through what I did, then you can do it too. But you need to put in the work to identify your ambitions and what will assist in reaching these'. Because I build a relationship of trust with young people, they are more receptive when I am direct with them about the need to take ownership over their own lives and 'remove the victim'."
Her impact is reflected in how young people feel about coming to the Empire gym. Simone was recently told by a young person, "I really like coming here because of the relatability of the coaches. They understand what the struggle is like – and it makes me feel safe."
CONCLUSION
At Empire, we believe that safety and trust make the difference, so we are proud of the team of relatable, trustworthy coaches we've built over the past seventeen years.
As we grow and develop as a charity, we are committed to continuing to hire coaches and therapists with lived experience who can relate to the vulnerable young people we work with.
Building a trusting relationship with 'someone like me' has a powerful effect on young people facing adversity and it's the key ingredient for our success in helping them reach their true potential.
Please make a donation to Empire Fighting Chance today to help support our psychologically-informed boxing programmes.
Author: Ellie Milone, Communications and Advocacy Manager