Fighting for: Jayden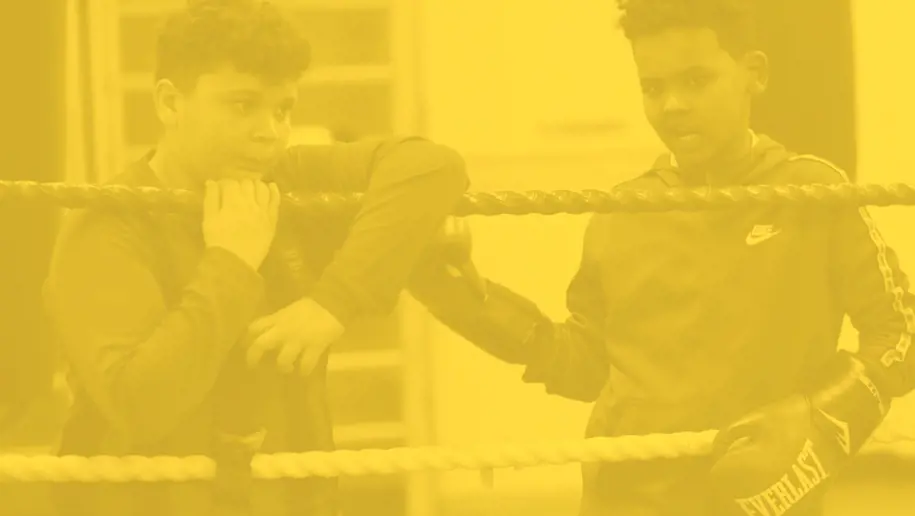 Today we share the story of another one of the thousands of young people we fight for every year – and how Empire Fighting Chance has transformed their life. Meet Jayden*.
Nine-year-old Jayden was referred to Empire Fighting Chance's Box Therapy programme in 2022 by a family member because he was having frequent anger outbursts that led to self-harm or hurting his family members.
Jayden can be energetic and happy, but often experiences anxiety and low mood. Jayden is autistic and has ADHD, so he finds many situations overwhelming and finds it hard to express his emotions, leading to his outbursts. He finds school stressful, has struggled to make friends, and bullying in the past has contributed to his social anxiety.
HIS JOURNEY
Jayden began one-to-one Box Therapy sessions with Simone in October. The twelve-week programme sees a trained therapist blend non-contact boxing with therapeutic approaches such as Acceptance and Commitment Therapy.
When he started sessions, Jayden set his goals: to gain coping strategies for expressing anger in a controlled way, to increase his confidence, and to be able to recognise his emotions and regulate them.
Soon, Jayden was able to notice and name emotions as they developed, and he openly spoke to Simone about situations at home or school that upset him. In doing so, Jayden explored strategies he could use to prevent these situations from reoccurring. Through weekly personal goal setting, Jayden felt fully in control of his therapeutic journey. Out of his twelve sessions, he missed only one, demonstrating his commitment to the programme.
Throughout the programme, Jayden said his moods at home and at school dramatically improved. His grandfather also noticed a change in him after just one session, both at home and at school. Jayden quickly settled into Empire, and after two sessions he was walking into the gym with confidence and eagerness. 
THE EMPIRE IMPACT
Jayden said that coming to Empire Fighting Chance has given him the space to express himself freely in a safe place with no judgment. He felt comfortable channelling all his energy into his sessions instead of bottling it up like he usually did. Jayden expressed his gratitude towards every session and developed a great bond with the therapist.
Towards the end of his time with us, Jayden became open to the idea of attending Box Juniors classes at Empire once his one-to-one sessions ended – something he wouldn't have considered doing before because of his social anxiety. Despite feeling sad that his sessions with Simone were coming to an end, Jayden was proud of himself for continuing his Empire journey and moving into group sessions with up to fifteen young people.
Since attending sessions at Empire Fighting Chance, Jayden has developed a stronger relationship with his family and feels more confident in new social situations. He feels driven to push himself of out his comfort zone and explore other confidence-boosting activities.
Although he knows he still has personal goals to reach regarding school engagement, he says he is committed to working on these using the skills he learned during Box Therapy.
Jayden said about his time with us, "I like meeting new people and made many new friends here. I really like Simone and get on well with her. I really like boxing and working out. I feel it has helped me a lot."
Jayden's granddad reflected on his grandson's time with Empire by saying, "The club is welcoming and supportive. People are considerate and polite. Staff talk to the young people with respect and concern. I am personally very happy that Jayden was referred to Empire Fighting Chance. The team provide huge support and understanding. From the bottom of my heart, I'd like to thank you all."
THIS IS OUR FIGHT.
To learn more about Box Therapy, click here.
To refer a young person to Empire Fighting Chance, email [email protected]
*Name changed to protect identity. Image used for illustrative purposes only and not connected to story.