Marathon Over May
Over the month of May, 56 of our amazing supporters raised £6,308 by walking, jogging, or running 26.2 miles during the 31 days.
Over the month of May, 56 of our amazing supporters raised £6,308 by walking, jogging, or running 26.2 miles during the 31 days. Together they completed 2218.5 miles – the distance from the Gym in Bristol to Cairo, Egypt!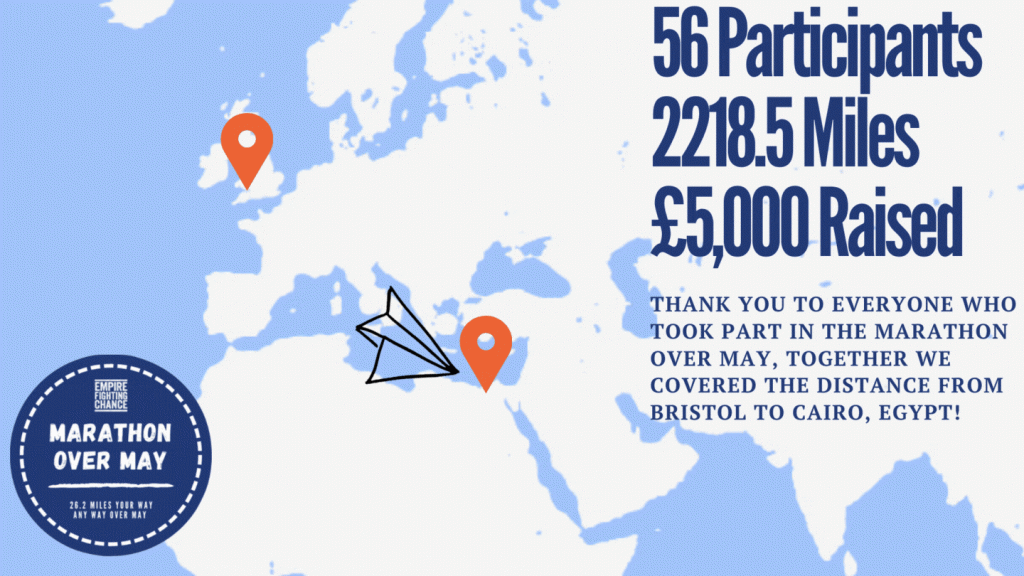 Every mile covered and every penny raised ensures we can continue to be there for young people when they need us most. We are so grateful to every individual, every business and every community group who got involved and helped us to transform young lives this May.
COVID-19 has hit the most vulnerable the hardest. More young people from the deprived areas in which we work needed our support and were coming to us with more complex emotional and behavioural issues. The lockdowns to fight the pandemic forced us to rapidly adapt our work so that it could be delivered remotely to young people. We could not have responded in the way we did without the incredible support of our Team Empire community.
That community included companies like TasteTech, who entered 21 members of the TasteTech team into the challenge, covering 943 miles over the month and raising a fantastic total of £1,190. This was matched funded by the company bringing the overall total to an amazing £2,190!
"The Marathon over May campaign has been a fantastic opportunity for us to improve our team spirit especially given current working restrictions. Over 1/3 of our employees took part and we found it started some friendly competition resulting in us smashing our fundraising targets.

It is very important to us as a team that TasteTech supports charities local to us and Empire Fighting Chance is a wonderful example of just that. We want to know that the money we raise makes a real difference and with Empire Fighting Chance we can see it in the important work they do helping young people in Bristol and across the South West."

Janis Sinton, Managing Director.
Anderson Financial Management's team of 9 staff members also took part in the challenge covering 212 miles and raising £520. This was then generously match funded by Anthony Anderson taking the teams total to £1,042!
"Occasionally in life you come face-to-face with genuinely inspirational people who just want the best for their communities. Martin, Jamie and the whole team at Empire Fighting Chance are those people. When we heard the story of Empire and the positivity and hope that the charity are bringing to the lives of young people in Bristol and beyond, it was impossible for us not to get involved. We are excited to be able to support their work in giving practical and emotional support within a safe space that allows young people to go there and grow."

Anthony Anderson, Managing Director.
We would like to say a massive thank you to everyone who took part in the Marathon over May, and to everyone who sponsored and supported them through their challenge. Thanks to their awesome achievements, we can help even more young people build positive futures!