Steven and the Bristol 10K
We caught up with Steven to see how he got on with running the Bristol 10K for Empire Fighting Chance.
We caught up with Steven to see how he got on with running the Bristol 10K for Empire Fighting Chance.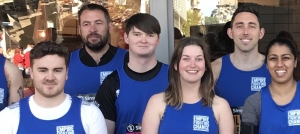 Hi Steven, before you started training with Shiren - how fit were you?
I felt fit but didn't feel like I could actually do a 10K. Felt underwhelmed about fitness. I hadn't done much running. Maybe a mile... but not 10K! So that was definitely a change for me.
How much training did you put in in preparation for the 10K?
Shiren and I ran to Eastville Park from the gym… That was further than I'd ever gone. We put in hours and hours of training - probably might have done 1-2 sessions per week to get training up. Every session went from easy to difficult to get my level of running higher.
How was the support you received?
Really good!
How did you get on during the run?
At the start I was a bit unsure - obviously knew I needed to pace myself and not sprint so I started off normal speed and near the middle, my ankle decided to just not want to work with me and buckled. I could have stopped but continued on anyway. I finished in just under an hour which was really good.
When the race was on, did having other runners around you help?
I didn't pay too much attention to the other runners and it was just me in that moment. I focussed on what I needed to do, not what others were doing.
How did you feel after completing the race?
Tired and sore, but happy that I did it.
Now you've completed an organised event, could you do other fitness events or runs?
Probably - later on. For now, I'm making sure I get on with my life looking for work and focussing on photography. Once I've prioritised though I'd like to continue with running. I want to continue at a general level of fitness.
Did you enjoy being part of #TeamEmpire?
Being part of the team was encouraging. If I was by myself I probably wouldn't have done as well. It's great to have a support network. Everyone functions differently - some people like having people around and others like to be by themselves. Lots of people may enjoy being part of the larger team.
How did your family and friends to hearing that you were going to run a 10K?
They gave me lots of encouragement! Silly stuff like 'Oh, you're actually doing the 10K!' - joking. They were all encouraging. My uncle supported me with training in the park he lives near, running around the football pitch and doing weights to get stronger. There was lots of support from elsewhere, family and friends. Mum came to watch and cheered me on halfway - I didn't see her though!
When ankle went someone saw and asked if I wanted to stop and get an ambulance to have a look at it. I declined and said I'll continue: 'I trained for this so I might as well finish it'.
How was it reaching the finishing line?
I didn't enjoy all the cameras! Would have happily done it again if there are no cameras. Focused on getting over the finish line and ignoring spectators and cameras to keep focused.
And when you crossed the finish line?
Mix of happiness and pain. Really wanting to eat food! I ate at the Stokes Croft Boston Tea Party straight after the race, where I now work part-time.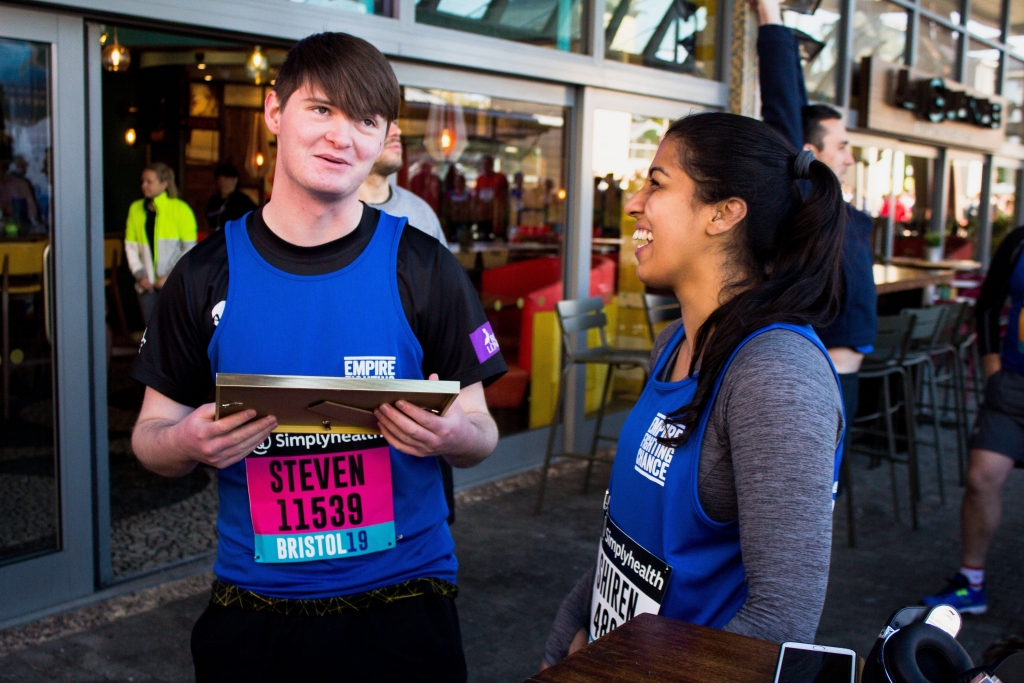 On the day we gave you the 'Champion of the Month' award for all your efforts since you've been at Empire Fighting Chance, how was that?
Unexpected. I didn't think that would be given to me. I undermine my achievements quite a lot.
Looking back now at your achievements do you see why we gave it to you?
I see now why I got it but at the time I was a bit surprised!
Thanks Steven and good luck with your current role at Boston Tea Party and any future photography opportunities!