Where are they now: Chloe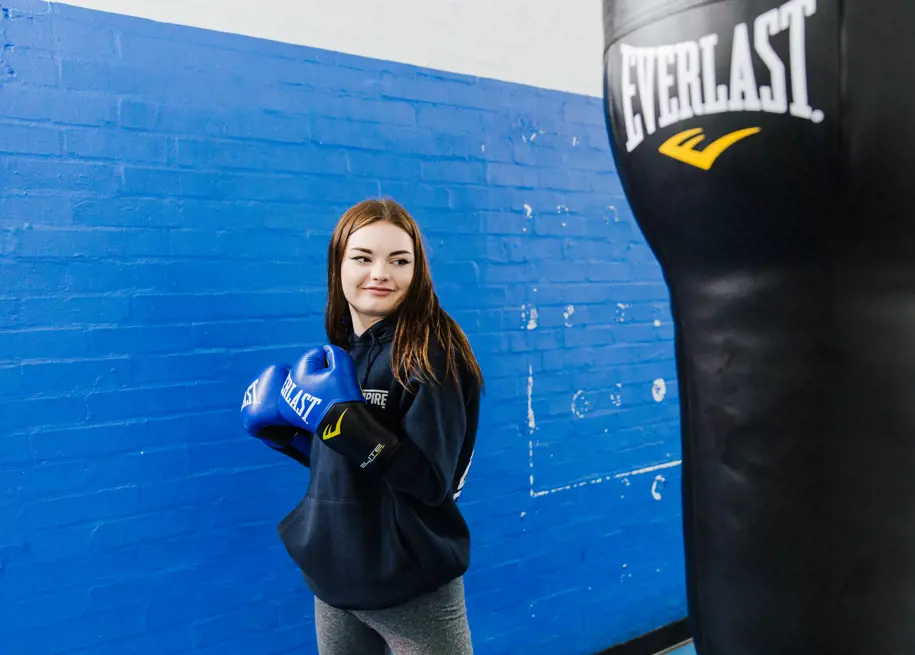 Since 2006, we've transformed the lives of thousands of young people through the power of boxing.
We're thrilled when we hear from individuals we've worked with, who often visit the gym or get in touch to let us know how Empire Fighting Chance made a difference to their life trajectory.
In the first of a new series of inspiring alumni stories, today we hear from Chloe Bailey, now 21, who was referred to our Box Champions programme five years ago. We caught up with Chloe about her experience with Empire, the lasting impact it had, and her plans for the future.
HOW IT STARTED
When Chloe was studying for her GCSEs, she struggled with expressing her anger, and went through cognitive behavioural therapy (CBT). The CBT worked for her at that time, but as she progressed to college and experienced further issues with her mental health and was falling behind on coursework, she struggled with other forms of counselling.
Chloe began her Empire journey in 2018 with one-to-one sessions at the gym with Coach Courtney. She'd been referred to Empire by a counsellor at the time who thought she could benefit from the physical release of boxing training alongside psychological support. She says, "I didn't know what to expect I think at that point of my life. I was really struggling and would try anything to not feel low and anxious. I didn't expect how much it would change my life."
At her first session, she was nervous, but she was quickly made to feel welcome. The sessions felt natural, and Empire felt like the right place for her. In that first visit, Chloe says that those she met in the Empire team were thoughtful and caring. Rather than just talking about her challenges with a counsellor, Courtney showed her alternative ways to process her anger, including through physical activity.
As the sessions progressed, Chloe became more confident at boxing and learnt how to regulate her emotions. She'd struggled with trusting people in the past, but after only a few weeks Courtney had gained her trust and she was able to open up – sometimes without even realising.
Chloe explains, "I really enjoyed the way that it wasn't so intense - like just talking all the time. I was learning to box, doing circuits, and speaking about feelings when it felt right. I was getting out my emotions through boxing, which really worked."
Soon, Chloe was also seeing improvements outside the gym. She felt happier and less angry, and her attendance at college improved. Her renewed commitment to completing her A-Levels led to achieving the grades she needed to get into university.
Explaining the impact that the twenty-week programme had on her life, she says, "I think Empire had a significant impact on the path I was taking. If I hadn't had gone I most likely wouldn't have got into university and my mental health would have been worse. I really believe they helped me stay on track and not go down bad paths, and really allowed me to make something of myself."
HOW IT'S GOING
Chloe has just finished her undergraduate degree in photography in Manchester, an achievement of which she's incredibly proud. The Empire team stayed in touch with her throughout the three-year course, and she even invited Courtney to do a skydive with her to raise money for the charity.
When she gets the chance, she loves visiting our gym, saying, "I regularly go back to see everyone, catch up and just to be in a space where I'm so comfortable. Everyone at Empire is like a family and I really feel at home there."
Now she's finished university, she's moving back to Bristol to build her career in photography. Chloe will be our official photographer for Empire Fighting Chance's annual fundraising quiz on 29 June – and we can't wait to see her again.
Reflecting on the past few years, Chloe says, "I loved the programme. It really was amazing, and it changed my life."
Check out Chloe's photography on her website or her Instagram. 
THIS IS OUR FIGHT.
To learn more about Box Champions, click here.
To refer a young person to Empire Fighting Chance, email [email protected]