Out of the Box: Brendan Ingle Foundation
In the second in our series looking at the amateur boxing clubs we've partnered with around England, we travel to Sheffield to learn about the Brendan Ingle Foundation, and how they're transforming young lives in their community.
We have been bringing our solutions to young people experiencing disadvantage through a network of boxing clubs and other local organisations who are powered by Empire Fighting Chance.
Last year we worked alongside England Boxing to train our first 15 amateur boxing clubs to deliver our psychologically informed programmes to young people across eight regions of the country.
We've partnered with clubs who want to transform the role they play in their communities and become more than just a gym.
Now we're sharing stories from our partner clubs up and down the country, as they deliver our programme to improve local young lives through the power of boxing.
Today, we head to the Brendan Ingle Foundation in Sheffield.
Their story
The famous Ingle Boxing Gym is based in Sheffield and is named after the late legendary trainer and manager Brendan Ingle. The gym has a rich history of turning local talent in to national and world champions, such as Johnny Nelson, Prince Naseem Hamed and more recently Kell Brook and Kid Galahad. The Ingle Gym has a professional boxing operation run by Brendan's sons Dominic and John while also hosting a successful amateur boxing club.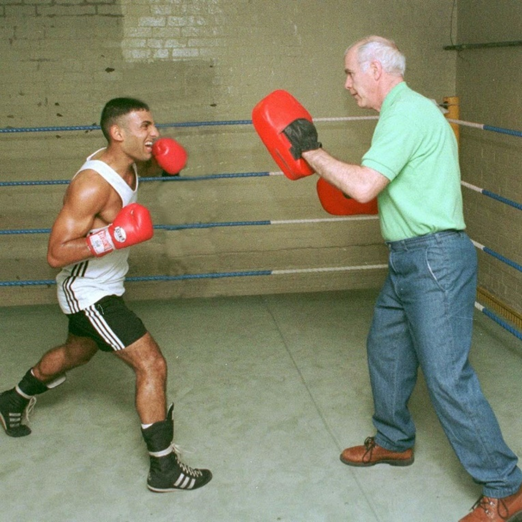 Brendan Ingle first moved to Sheffield in the late 1950s from Dublin. He came to work in the steel works and boxed professionally. He met and married his wife Alma in Sheffield and moved to Wincobank in Sheffield and lived there for the rest of his life. After being approached by a local vicar, Brendan began leading a youth club for the 'wild kids' of Wincobank. After sessions at the youth club finished in the evening, young people would start fighting outside the building. Brendan told the young people to go inside and do it properly. This is where the boxing gym began. Brendan used unique techniques to coach boxing including his famous footwork drills, practised on the multi-coloured painted lines and circles of the Ingle Gym. In time, the Ingle boxers developed a reputation as switch hitters, with great movement and unorthodox techniques, who mastered the art of hitting and not getting hit. The gym became a place where everyone was welcome.
The Brendan Ingle Foundation was set up as a registered charity in 2012 to address the needs of the socially excluded and those at risk of becoming socially marginalised. Brendan spent most of his life making 'bad kids good and making good kids better'. The Brendan Ingle Foundation is creating opportunity and togetherness through various local projects, to build a safer and kinder community.
Why partner with Empire Fighting Chance?
In 2022, the Foundation was already delivering weekday and weekend sessions and running school holiday programmes but wanted to further their reach in their community. So, the Foundation, led by Andy Nice, decided to partner with Empire Fighting Chance and came to Bristol for a free, two-day training course. After learning about Empire's schools programme on the training days, the Foundation wanted to explore how they could replicate this approach in Sheffield.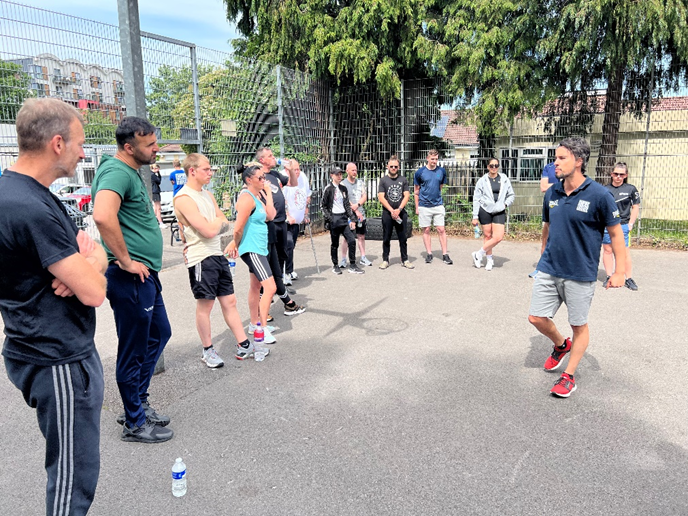 Andy Nice explained why they wanted to partner with Empire: "We were really impressed by the training days in Bristol. We liked the structure and content of their Box Champions programme, and the emphasis on linking learning boxing skills with both physical and mental wellbeing. We also felt it was something our coaches would be able to deliver. What was important was that Empire were also measuring and recording the impact of their work, in a way that seemed achievable for a small boxing charity like ours. We know from experience that you can be doing great work and making a difference but if you don't measure and record it and communicate it in some way, then what you are doing may not be properly recognised."     
"Empire Fighting Chance had built something that had sustainable income and was not wholly dependent on winning grants. The Foundation had succeeded in winning several grants, but these were often time limited.  We wanted to build more income from our work with schools. We wanted our work with schools to be high quality, effective and a core part of what we do."
Progress in the partnership
Since partnering with Empire Fighting Chance, the Foundation has started to develop a unique programme which they can deliver in schools. Taking inspiration from the Empire Fighting Chance Box Champions programme, the Foundation has now developed a similar programme tailored to their approach, which uses Brendan Ingle's philosophy and life lessons. The psychologically informed programme, delivered by coaches, runs for 25 weeks, and covers three half terms.
Andy Nice explained; "We have run a successful eight-week pilot of the of the new programme with a local secondary school. This is part of a multi-academy trust (MAT) that consists of two secondary schools, two primary schools and a sixth form college. It covers a large area of Sheffield which has a strong community, but which contains some of the most deprived parts of the city. We have strong links with the MAT, as did Brendan. Two of the Ingle Gym's world champions, Prince Naseem Hamed and Kid Galahad, were former students at one of the MAT's schools, and Carlo Missirian from Empire helped us get the go-ahead from the MAT to run the programme.
"The pilot took a lot of work but was a great success. Attendance has been really good, as was feedback from the students and school staff. We are now moving on to the next part of the programme.
"The Foundation had its own behaviour change model, 'The Brendan Ingle Magic Circle', which was based on Brendan's philosophy. Brendan Ingle was regarded by some as a 'Philosopher Coach'. He believed the development of a person's character, especially self-discipline, honesty, and integrity, were of equal, or of more importance than the development of their boxing skills. These skills are transferable to other areas of the boxer's life, as life skills.
"However, unlike Empire's Box Champions programme, the Magic Circle was not backed up by individual lesson plans. The training we have done with Empire gave us the inspiration and confidence to put more 'structure' and content into our programme. We now have a product that consists of 25 lesson plans, covering not just boxing skills, but also practical and accessible psychology, such as positive reactions and overcoming challenges. Brendan was passionate about education and had a saying: "If you don't get an education, someone else will always control your life". So, I hope he would have liked what we have done in developing the Magic Circle lesson plans for our schools' work. We probably would never have got around to doing this if we had not had the partnership with Empire.
"We feel what we have developed is effective and is attractive to schools and funders. We have already won two grants that cover delivery of our programme. We got really positive feedback from the funders.
"We now have a systematic way of measuring and recording the impact of the programme. This includes access to the Upshot CRM system and student surveys which provide evidence of the effectiveness of the approach. We feel this is something that is important in attracting future funding.
"We have been really well supported by the Empire Fighting Chance team, including Growth and Development Manager, Aaron Morten and sports psychologist, Sam Kotadia. They have got to know us, encouraged us to develop our own approach, and provided us with further training and ongoing support.
"And I think it should be noted that Empire have funded the partnership programme themselves."
What the future holds
The Foundation's priority is to continue to develop a sustainable relationship with the local multi-academy trust and other local schools, to reduce its dependence on grant funding. The focus for any grant applications will be for those that would support and enhance the sustainability of the programme.
The boxing coaches that deliver the programme for the Foundation are from the area, so they understand the challenges many of the students and their families face. They know the local amateur boxing gyms and can point school students in the right direction if they want to take their boxing further.
Andy Nice says: "Compared with some, it may not appear to be a particular ambitious strategy. However, we are a small community-based charity, and we believe that by working with the local schools we can make the most impact with the resources we have.
"We feel that the more we use the programme, the better we will get. We've already learnt a lot from the pilot and from feedback from the students and school staff".
---
Is your club interested in partnering with Empire Fighting Chance to change young lives in your area?
To learn more about the Powered by Empire Fighting Chance network, please complete an expression of interest form. Or, for more information, please contact Aaron Morten, Growth and Development Manager, at [email protected]
Watch England Boxing's film about our training day in March 2022: