Champion of the Month Jahkai
"I feel like coming here is something I will spend all my life doing because the people in the gym are nice to me and I've gotten to know a lot of the coaches. They all look out for me."
"I feel like coming here is something I will spend all my life doing because the people in the gym are nice to me and I've gotten to know a lot of the coaches. They all look out for me."

Jahkai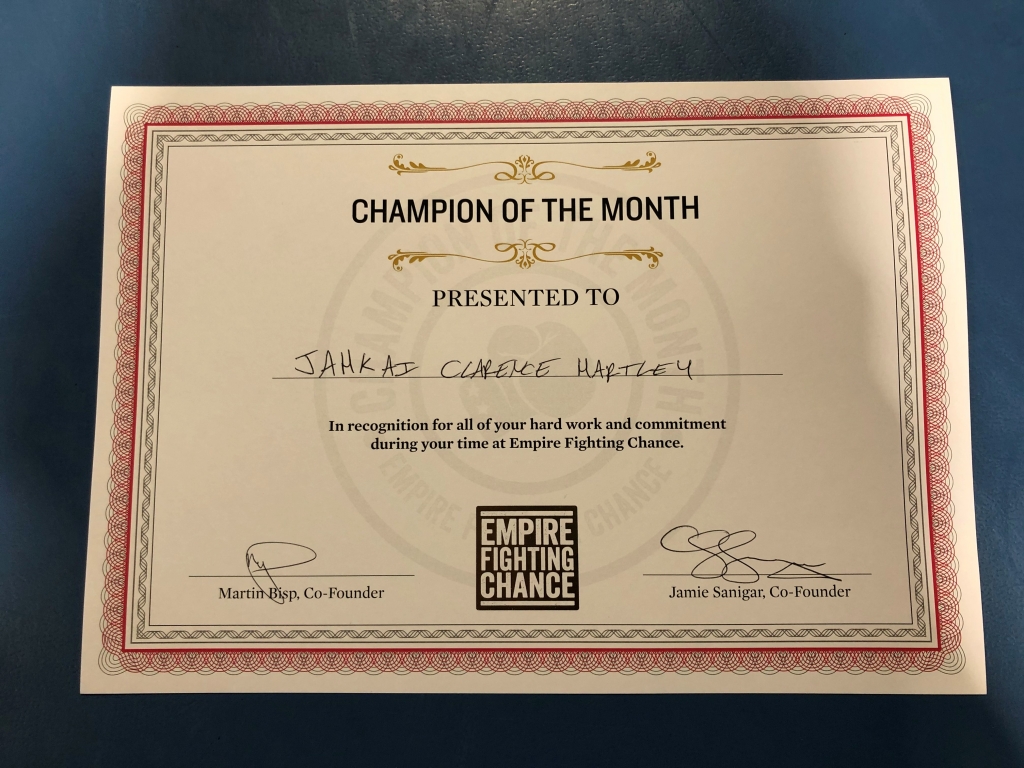 Jahkai is a 9-year-old boy who was referred to Empire Fighting Chance after numerous exclusions from school. These are his words about Empire Fighting Chance.
"I come back every week because of my coach, Courtney. I would call him very nice. He is not strict, and he helps me, and helps me in school too. He helped me in school because he gave me talks about why I should stay in school and that's why I have been doing well in school. Courtney has been teaching me that if I do well in school I will get a good job.
He is also teaching me a lot of stuff about school that I didn't know and made me get more interested in school. I find school a little bit easier and I go more now. I felt nervous coming to the gym.
Now I feel like coming here is something I will spend all my life doing because the people in the gym are nice to me and I've gotten to know a lot of the coaches. They all look out for me.
Coming to the gym has got me a little bit tougher now because I was kind of weak but since I've been doing this, I've got more confident and more able to do stuff now. Before I couldn't lift heavy stuff but now, I can use my arms a lot and pick up heavy bags. Its nice to feel strong. I feel proud of myself.
My friend, he gets angry, and if came here he would probably be like me and not get that angry. I don't get that angry anymore. Before [coming to the gym] I would get angry fast but now I don't. I think because I hit the bags and from talking to Courtney. The coaches are very nice, and people should come here because it is very good, and the coaches are very kind to you."
Jahki has been working with Coach Courtney for 10 weeks now and has been awarded for Champion of the Month for November due to the excellent transition he has made into his new school and his improved school attendance. Well done Jahkai!