2022 wrapped
As we near the end of 2022, we're taking a moment to catch our breath and reflect on what has been a huge year for our charity...
As we near the end of 2022, we're taking a moment to catch our breath and reflect on what has been a huge year for our charity, but one which has also seen real hardship for the communities we serve.
Just as the UK emerged from the global pandemic, the country lurched straight into a cost-of-living crisis. As more families were plunged into poverty, more young people struggled with their mental health and behavioural issues. We responded by raising our game. We upgraded our boxing and psychology fused programmes, scaled these to multiple new locations across the UK and strengthened our movement of organisations and individuals fighting in our corner to transform young lives.
We've also expanded our team, increasing our capacity in communications, advocacy and monitoring and evaluation, while bringing on board some incredible new coaches and therapists who are committed to supporting young people facing adversity.  
And throughout the year we've had the chance to grab some exciting opportunities, including major fundraising partnerships, profile-raising events, awards, and a new ambassador.   
We'll be sharing Empire's full story of 2022 in our Impact Report, to be published at the start of next year. But in the meantime, here are our 'best bits' from this year.
Wishing you all a Merry Christmas and a happy New Year.
JANUARY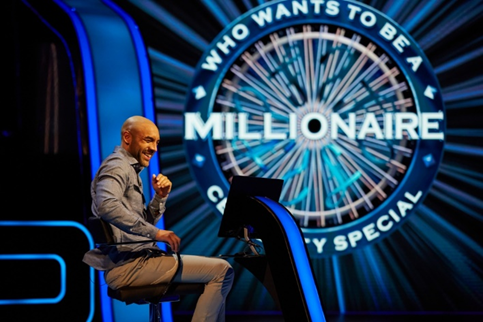 At the start of the year, Empire Fighting Chance Ambassador, Alex Beresford, represented the charity by starring on Celebrity Who Wants to be a Millionaire and Celebrity Catch Phrase, winning the charity an incredible £18,200 in total.
FEBRUARY
During the first week of February, we travelled over 1,200 miles visiting boxing clubs across England, as we kicked off our boxing club training programme, Powered by Empire Fighting Chance, in association with England Boxing. 
These visits allowed our team to meet with key team members at the clubs to discuss their current work with young people. Our travels gave us a deeper understanding of the clubs' communities and their unique challenges, and helped us prepare for training days at our Bristol gym in March.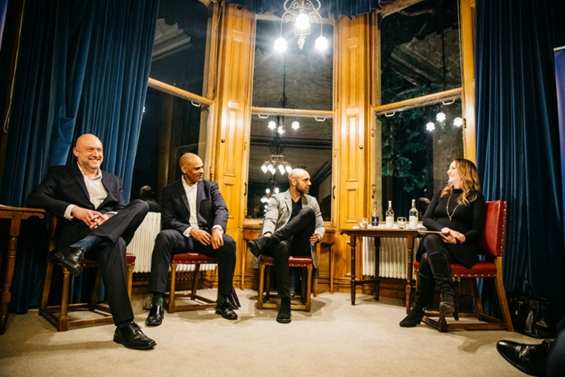 Later in the month, we brought together businesses from across Bristol for an event at The Mansion House. Empire Fighting Chance Ambassadors, Mayor of Bristol, Marvin Rees and TV presenter Alex Beresford joined our CEO Martin Bisp for a panel discussion hosted by ITV's Kylie Pentelow around building Bristol as a city of hope.
Marvin and Alex both spoke movingly about their experiences growing up in Bristol and how they believe our work with young people is helping to build a city of hope.
MARCH
At the start of March, Empire Fighting Chance hosted the first training cohort of amateur boxing clubs who join our network, Powered by Empire Fighting Chance. The programme supports boxing clubs across England who have the aspiration to improve their community and charitable work with young people in their gym, local schools, and community.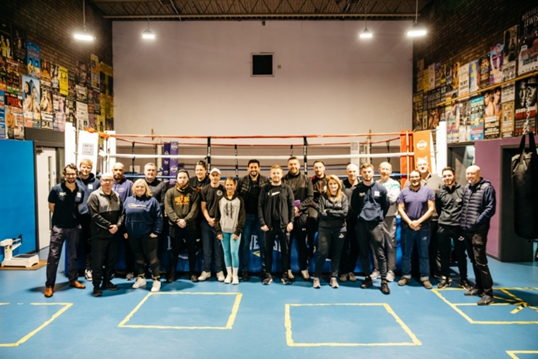 During two days of free training at our inner-city gym, clubs learn how we transitioned from an amateur boxing club into a sustainable charity and about all aspects of our organisation, including our programmes, operations, sales and monitoring and evaluation.
Since March, we have held two further training cohorts. During 2022, we welcomed 15 boxing clubs from Country Durham, Dudley, Hampshire, Liverpool, Macclesfield, Manchester, Newcastle, Newquay, Northampton, Norwich, Plymouth, Rotherham, Sheffield, St Helens, and Surrey.
MAY
In May we found out that we had been chosen as the charity of the year for city-based philanthropy group, The October Club. For 34 years, their committee has chosen a charity for which the funds raised will prove transformational.
This was followed by a visit to the House of Commons for an event launching the partnership in June, ahead of the main fundraising event later in the year.
Later that month, we were proud to be invited to participate in the Brookings Institute '17 Rooms' global initiative to stimulate action toward the 17 Sustainable Development Goals of the United Nations.
We joined a small working group of organisations from across the world to progress Goal 16 - to promote peaceful and inclusive societies. Our working group - Room 16 - aims to shift how cities are addressing urban violence from a focus on punitive measures to preventative approaches.
We are sharing learning with each other and using the global platform we have been given to make cities safer for all. We have exciting plans for the future, including piloting a unified approach to tacking violence in several cities across the world, which is expected to include Bristol.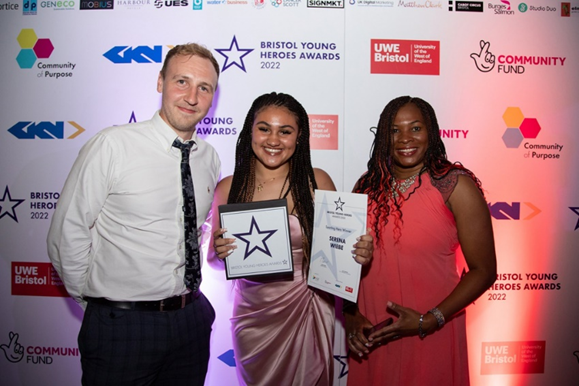 JULY
July saw one of our boxing coaches, Serena, win the Bristol Young Heroes Sporting Hero award. We were thrilled to see her getting recognised for the incredible journey she has been on since coming to Empire as a young woman struggling with anger issues following the death of her brother.
Serena continues to combine her impressive coaching talent with her own unique story to help inspire and support young people across Bristol.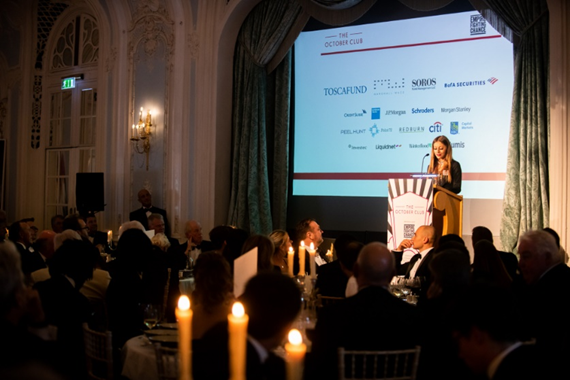 Over 350 individuals attended The October Club's main fundraising event, the prestigious Savoy Dinner. In total, The October Club raised an incredible £820,000 for Empire Fighting Chance to scale our impact across the UK.
Our partnership with The October Club has generated a transformational amount of funding for the charity. We are using it over the next three years to build a network of local boxing clubs to deliver our programmes in their communities. Our aim is to reach 15,000 young people each year through 25 trained amateur boxing clubs.
One of our young members of staff was instrumental to our success. Kassia became our Fundraising Intern shortly after completing our Training with the Champions programme.
NOVEMBER
Last month, we welcomed our newest charity ambassador, the Australian darts legend, Simon 'The Wizard' Whitlock, to our Bristol gym.
After living in the UK for well over a decade, Whitlock has seen the socio-economic changes in the UK that disproportionately affect a generation of children from disadvantaged backgrounds, and will be working closely with us to support vulnerable young people.
Thank you to everyone who has supported the work of Empire Fighting Chance in 2022.
We are very grateful to the many supporters, partners, volunteers, parents and young people who have helped to make our achievements possible during this past year. We look forward to continuing to work alongside all of you in 2023 and having an even greater impact on the lives of young people.