The Good Fight: Beyond Boxing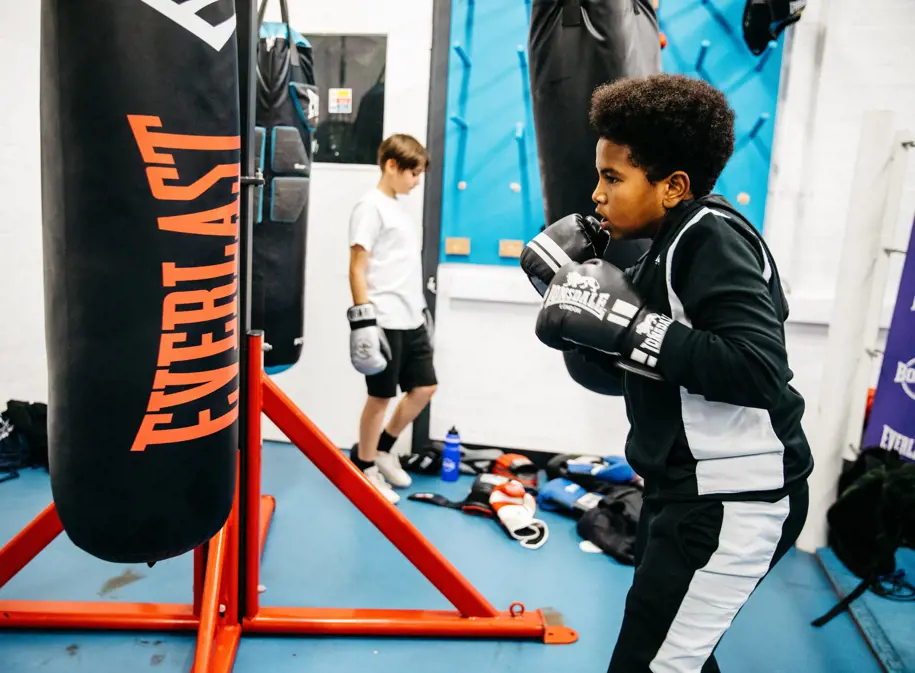 Boxing is at the heart of everything we do at Empire Fighting Chance.
Our heritage in the sport spans more than five decades running an inner-city boxing gym, creating many champions along the way. For us, boxing isn't just a sport, it's a way of life. We're passionate about using boxing to help young people to achieve their full potential and lead happy, healthy lives.
However, we know from experience and research that practicing the sport alone is not enough for young people to overcome struggles with mental health, challenging behaviour, and criminality.
Indeed, we also acknowledge that the sport of boxing and the gym environment can have inherent aggressive, masculine qualities which require our coaches to deliver our programmes in such a way that they challenge negative stereotypes and reduce physical risks.
In her book The Criminology of Boxing, Violence and Desistance (2021), Dr Deborah Jump reviews existing literature on the interaction between boxing and offending, as well as undertaking primary social research within a boxing gym to explore the culture of the sport and its capacity to lead young men away from crime.
Here, we review the book's findings and its implications for our own work with vulnerable young people.
Models of masculinity
Jump writes that the culture of boxing is often built on ideals which prioritise domination, violence, endurance and winning – evoking so-called 'hegemonic masculinity'. It is these qualities which make the sport appealing to young men who feel disenfranchised, so boxing becomes a space in which they can earn respect, experience a sense of control, and bolster their masculine identity. She says that it is possible that young men therefore develop positive attitudes to violence which justify use of aggression outside of the sport.
At Empire Fighting Chance, we actively challenge the negative, gendered, and violent stereotypes often associated with boxing.
We only ever use non-contact boxing, removing any physical risk or interpersonal violence from sessions. This approach allows us to teach fundamental boxing techniques, improve participants' fitness levels, and create a boxing gym-like environment without the need for physical contact or sparring.
Furthermore, women currently outnumber men within our coaching and therapy team, meaning our frontline role models defy standard expectations of a boxing gym. We continuously strive to build the gym as a place of physical and emotional safety for all young people, which encourages them to lower their guard and accept support.
When working with young men, our coaches challenge their perceptions of what is it to be a man. We encourage them to think differently about stereotypical gender roles and the representations they may have seen on social media, helping them to explore their identity in a healthier way.
Desistance from crime
The book argues that a boxing gym "consumes men's time but offers little in the way of positive behaviour change or cognitive transformation". Jump goes on to say that there is "little to suggest that participation in sport alone will reduce offending".
In this way, participation in the sport prevents men from committing crime simply by keeping them away from situations in which they may get in trouble. The gist is therefore that sport must be used as part of a wider support programme if it is to deliver positive social outcomes like desistance.
The benefits of boxing are wide-ranging. As a physically demanding sport, it creates physiological changes in young people that can also improve their mental wellbeing. By learning boxing techniques and building their fitness, individuals build their confidence and self-esteem. Furthermore, the sport helps manage anger issues by providing a physical release in a safe, controlled environment. Susan Young, President of the UK ADHD Partnership said that "boxing, especially, teaches impulse control and channels emotions in a constructive way."
Despite having all these qualities and more, at Empire we know that boxing alone is rarely enough to tackle the effects of trauma and poverty on young lives. That's why we combine non-contact boxing with intensive personal support in the form of mentoring and therapy.
Boxing's unique grittiness and street credibility can effectively engage and motivate young people to show up week after week for sessions with our coaches and therapists. Rather than seeking out a service or professional, young people can engage in boxing and receive natural support without feeling ashamed for needing help. We've seen time and time again how boxing helps young people who start their programme with their head down to finish it standing tall.
It's our pioneering fusion of psychology and boxing which meant that in 2022, 85% of Box Champions participants said that they were less likely to commit antisocial or criminal acts after completing the 20-week programme.
The magic of a mentor
When discussing the importance of mentoring alongside the use of boxing as a 'hook for change', Jump writes, "It is a misguided assumption that taking part in boxing will automatically result in individuals developing a sense of discipline and control … Instead, what matters more than participating in an activity is the way in which is presented."
She goes on to outline what Roth and Brooks-Gunn (2003) described as the key principles for success in sporting programmes and mentorship. They included building a positive view of one's actions, respect for rules, positive bonds with people, and a sense of empathy for others. Jump reflects on this, writing, "If these elements could be achieved ... then I believe there is hope - and a future for boxing as an engagement tool and as a potential vehicle for change." In other words, boxing combined with effective mentoring really can transform young lives.
Empire Fighting Chance's model works only because of the value we place on the mentor-mentee relationship. From the moment a young person walks through the gym doors and meets their coach, they can feel safe enough to open up about their struggles. Many of our coaches also have lived experiences of trauma, mental health struggles, or behavioural problems which make them relatable as role models.
And our work is entirely youth-centred – we place the needs of young people above anything else. For instance, one of our guiding principles is to always show up for the young people we support. Many of those we work with lack consistency in their relationships with adults. But, with an unwavering commitment to being in their corner, Empire provides them with much-needed stability.
Conclusion
As Jump notes at the end of her book, "there is a lack of robust evidence on the outcomes of sports participation … Policymakers lack the evidence required to make informed policy decisions and connect sport to other policy priorities (Coalter 2007)." While there is indeed a lack of longitudinal research into the effectiveness of such interventions, we know from our experience of running our psychology-informed boxing programmes in different locations since 2006 that our model gets results.
However, never wishing to sit on our laurels, we continue to innovate and improve our offering. For example, following our Medellin knowledge exchange, we've made plans to up our game to build stronger communities and deepen our support for young people.
We're proud to be working with Dr Deborah Jump and her Manchester Metropolitan University colleague, Dr Paul Gray, on a new Theory of Change to guide Empire's work in the coming years.
Plus, our growing network of boxing clubs around England and Wales, Powered by Empire Fighting Chance, means we are sharing our expertise and supporting clubs to combine boxing with effective mentoring and psychology. We're already hearing success stories from partner clubs in places like Manchester, Norwich, and Skelmersdale, as they implement our programmes and insights.
Boxing will always be at the heart of all our work, but our interventions are more than just sport. Get in touch today to help us fight the good fight for young lives in Bristol and beyond.
If your organisation is interested in working with Empire Fighting Chance to support young people and their communities, please get in touch by emailing Ellie Milone at [email protected]
Or you can make a donation to Empire Fighting Chance today.
Author: Ellie Milone, Communications and Advocacy Manager