Our new partnership with England Boxing
Free club access to innovative programme helping young people with behaviour and mental health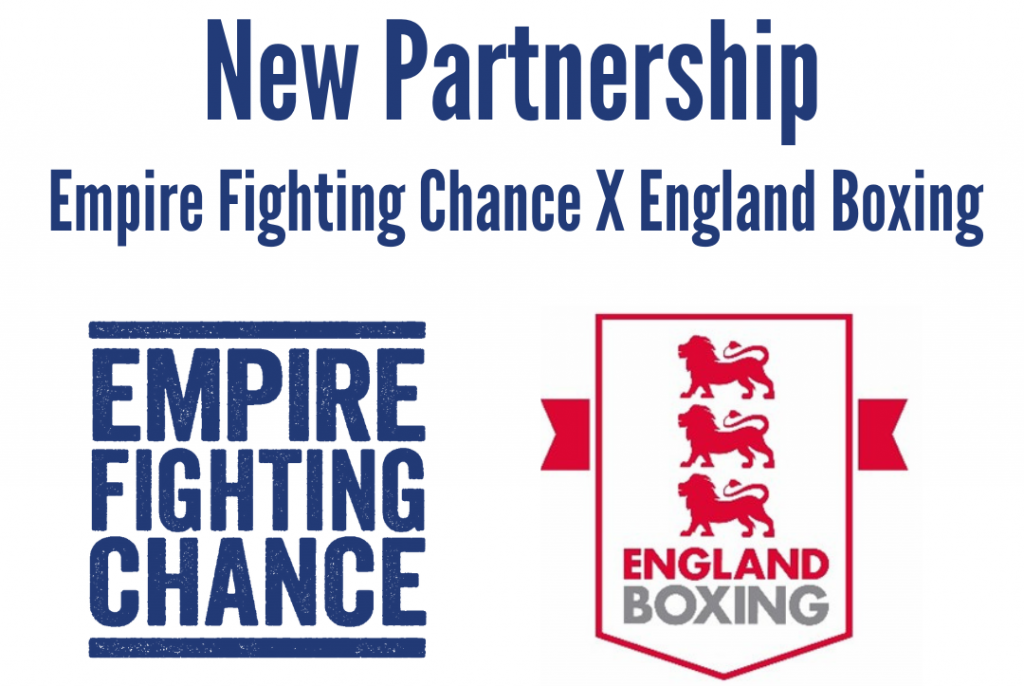 Free club access to innovative programme helping young people with behaviour and mental health.
Affiliated England Boxing clubs can now take advantage of free training and support on how to harness the power of boxing to help young people overcome behavioural issues and mental health problems.
The Empire Fighting Chance Programme is to be delivered at clubs across the country thanks to a new partnership between its multiple national award-winning developers, Empire Fighting Chance, and England Boxing.
Rising from the Empire Amateur Boxing Club, Empire Fighting Chance is based in Bristol and over the last 50 years has developed a pioneering approach to tackling school exclusion and anti-social and criminal behaviour among young people.
Over the last 18 months, it has successfully trained and supported organisations across the UK to deliver the programme and will now work with amateur boxing clubs to deliver their own sustainable projects.

The offer to England Boxing Affiliated clubs
Clubs will benefit from a free support and training package delivered by Empire Fighting Chance's training team, which includes:

'Improving social impact'
"We are hugely excited by this new partnership with England Boxing," said Martin Bisp and Jamie Sanigar, Co-Founders of Empire Fighting Chance.
"We have innovated and developed our programmes for the past 15 years, transitioning from an amateur boxing club to a sustainable charity.
"We are proud to now share our work with amateur boxing clubs across England, with a vision of improving the social impact that boxing can offer their communities.
"Boxing can, and does, change lives, but now we have an opportunity to take it to the next level and improve the support to those young people most in need."
'Never a more important time'
England Boxing's Head of Community Development, Charlie Ford, added: "With the huge impact that the Covid-19 Pandemic has had, there has never been a more important time for us to help young people through the challenges they face.
"As hubs of their respective local communities, boxing clubs are in a unique place to help with this, and the expertise provided by Empire Fighting Chance will equip them with specific knowledge of how to do that.
"We would urge clubs to take up this opportunity as, together, we can make a substantial and long-lasting difference by helping to shape what young people do out of the ring, as well as in it."
How your club can take part
To express and interest in being part of the initial group of clubs who will receive support from Empire Fighting Chance, please complete the Expression Of Interest form by Friday 24th September 2021. Selected clubs will be contacted week commencing 4th October 2021.
For more information, please contact Matt Halfpenny, England Boxing Communications Manager, via [email protected] or 07885 283708.