Llewelyn - Champion of the Month
Llewelyn Brown is our Champion of the Month winner for June to celebrate not only the dedication, determination, focus and drive that he has put into the Training with Champions programme with Empire Fighting Chance but also what he has put back into EFC through his mammoth fundraising efforts in the charities virtual fundraising challenge Marathon over May.
Llewelyn's EFC Mentor, Coach Nathan 'Noddy' said the following of his CoM Award –
"Llew has performed tremendously throughout his time within the Empire programme. He has achieved so much in such a short period of time.  He has shown a vast improvement in fitness, achieved all set targets consistently and has developed his will to succeed. Not only was Llew smashing his fitness targets with me twice a week during his sessions but he was also doing this alongside running 26.2 miles over the month of May fundraising for the charity. Llew has been superb throughout and a very worthy Champion of the Month."

Coach Nathan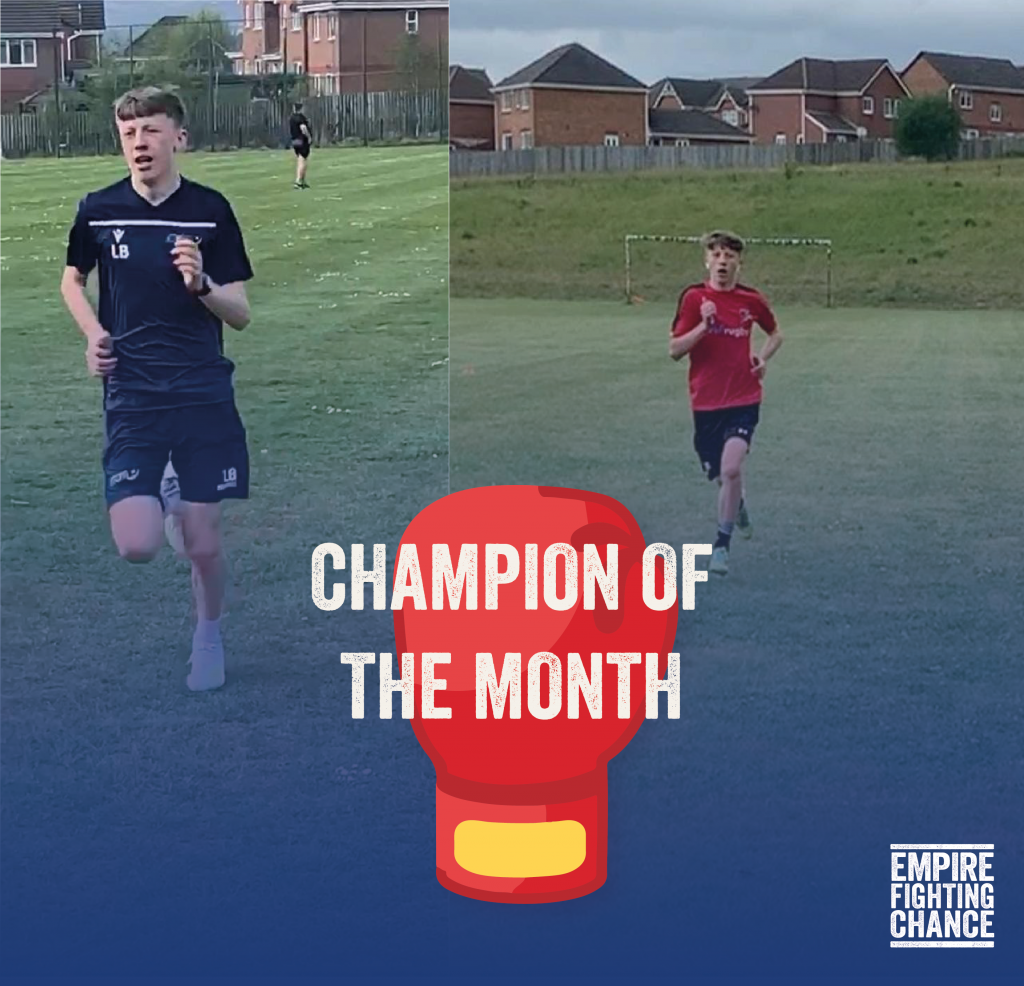 Llewelyn had previously been working with one of our coaches in a school session and was referred for 1 2 1 sessions by a family member as he was displaying anger in the classroom as well as struggling with routine and motivation during lockdown becoming quite lazy and lacking in drive. Through goal setting and the magic of mini goals within a couple of sessions with his EFC mentor, Llewelyn's dad was already seeing an improvement in his motivation to carry out chores around the house, exercise and schoolwork. What may seem like small goals and simple changes of making his bed first thing in the morning led onto more positive steps in his daily life such as waking up at the usual school time, completing his work set by teachers, and completing his fitness goals. After only a few weeks Llewelyn's fitness had improved massively and the mental strength he demonstrated during this tough period was clear for everyone around him to see.
Llewelyn's Dad said the following
"Llewelyn has been working with Noddy on a one to one basis since the middle of March 2020. In that time Llewelyn's fitness levels have increased dramatically. Noddy has designed a programme for Llew to increase both his aerobic and anaerobic fitness levels and his strength. Llewelyn has attended 2 sessions per week roughly 60-90 minutes in duration with Noddy where each session has been tailored to Llew's specific needs working on speed and agility in one session and the second session of the week based around more long distance running but every session incorporates strength work as Llewelyn is looking to increase his upper body size and strength to be able to compete better in the physical contact element of sports.

Through the work that Noddy has done and the fitness levels that Llewelyn has built up with his time with him, Llewelyn felt he could complete the Marathon in the month of May 2020 raising over £450 along the way for Empire Fighting Chance. Llewelyn had never shown an interest in long distance running before this time and the fact that he was able to feel confident enough and complete it in the fashion he did is down to the belief and fitness base instilled in him by Noddy. From a mental health wellbeing standpoint Llewelyn has grown greatly during his sessions with Noddy and is his mental health has never been better as a result of these sessions and interactions.

There are bi-weekly fitness tests that take place that really push Llewelyn and he responds with a great work ethic and dedication to the task. We as a family cannot thank Noddy enough for the work he has done with Llewelyn over the recent months we have seen a huge change in Llewelyn's personality away from training and this is down to the belief that Noddy has installed in Llewelyn that he can achieve whatever he puts his mind to."

Llewelyn's Dad
Llewelyn fundraised over £450 for EFC through the Marathon in May challenge, running over 26.2 miles throughout the month!
Llewelyn had the following to say about his time with EFC
"I have enjoyed doing the Marathon in May but I must say I wouldn't have been able to do it without the support of my mentor during this period Nathan "Noddy" Powell. He has spent hours working with me and improving my fitness levels and he deserves huge credit for the work he does within the schools in the area including my own."

Llewelyn
Fantastic work Llewelyn!