Heavyweight Hustle
Heavyweight Hustle water bottle project by Year 10 at Abbeywood School.
Empire Fighting Chance's Heavyweight Hustle is our flagship entrepreneurial careers project that is an exciting mixture of The Apprentice meets Dragon's Den. The 6-week programme has been developed to give young people a range of skills from budgeting to marketing whilst also allowing them to have hands on experience. A key aim of the project is to boost aspiration and give young people opportunity to learn about career paths they may not have access to exploring before.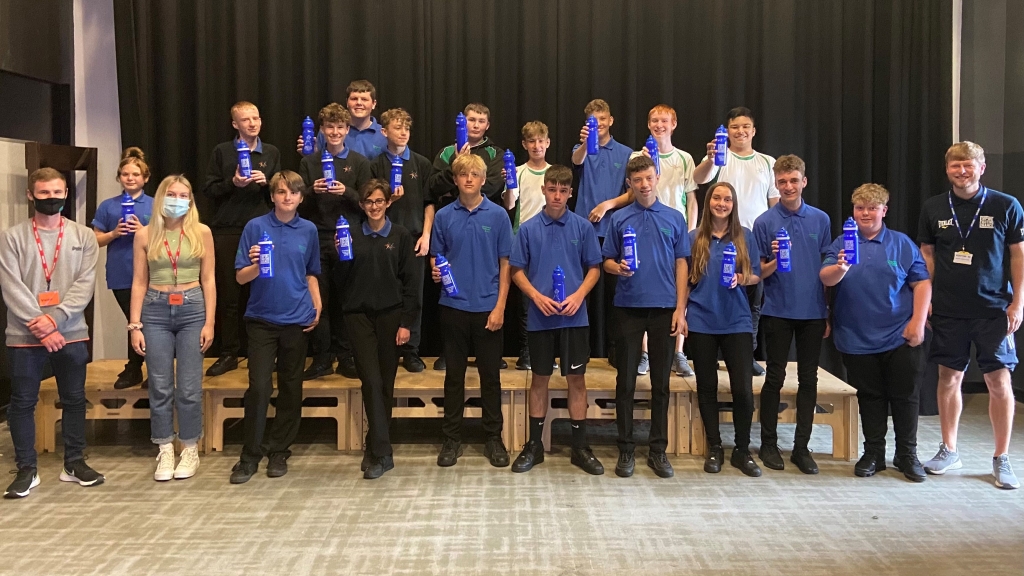 Funded by a generous donation from the UWE Community Fund via the Quartet Foundation, our Careers Coach Aaron worked with a team of five students from UWE to develop and deliver the programme. A group of year 10 students from Abbeywood School were referred via their school to the programme and received training and support in; Planning & Research, Budgeting & Finance, Design & Product Development and Marketing.
Working together, the group considered what type of product would be effective for them to design, develop and sell. After carefully considering their options, the group of budding entrepreneurs decided the product they wanted to produce would be an Empire Fighting Chance water bottle.
They explored design features such as colour, logos and font – carefully following the brief to ensure they stayed in line with Empire Fighting Chance's brand guidelines.
Once their design was in place, the Year 10's needed to work out the cost of producing their water bottle, and a sale price point to generate a profit for the charity. After this opportunity to develop their financial skills, it was time to show off what they had learnt and the product they had created.
The final stage of the process was a Dragon's Den-style, virtual product pitch to local experts. This was a great opportunity for the young people to practice their presentation skills and communicate as a team. This was a new experience for the participants and a skill which they were able to develop as part of the project. They received lots of positive feedback after answering all the questions put to them by the panel and enjoyed reviewing their achievements in their evaluation session.
The group actively engaged with the sessions and created a well thought out and quality product. Even with the disruptions of a couple of weeks off due to self-isolation, the group were able to display their knowledge an understating of the product when pitching to the experts. The young people received an AQA award for all their hard work and ability to display their understandings. A huge well done to all the year 10's that took part and a big thank you to the UWE students that supported our Heavyweight Hustle.
If you would like to find out more about the Heavy Weight Hustle programme or any of the programmes Empire Fighting Chance delivers, please email [email protected].