FIGHTING FOR: Aidan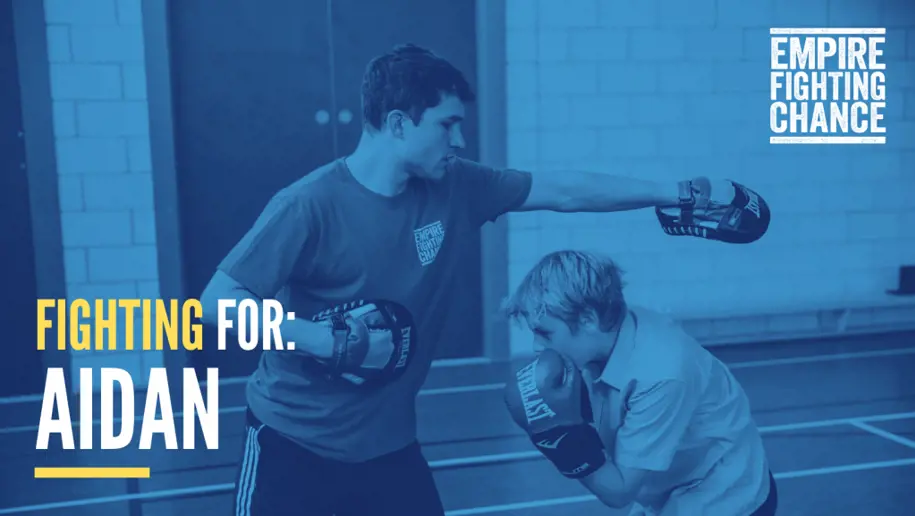 Today we share the story of one of the thousands of young people we fight for every year – and how Empire Fighting Chance has transformed their life. Meet Aidan.
Today we share the story of one of the thousands of young people we fight for every year – and how Empire Fighting Chance has transformed their life. Meet Aidan.
Aidan* was referred to Empire following a two-day exclusion from secondary school.
School made Aidan very anxious which led to poor behaviour. His school deemed him out of control, and he was at serious risk of permanent exclusion, of which his mum was very fearful.
At home, Aidan was violent towards his mum and was known to self harm. 
In referring him to Empire Fighting Chance, it was hoped that one-to-one support could help Aidan find ways to manage his anger.
Aidan loved playing sports, which is why Empire Fighting Chance's sports-based, informal approach was chosen as the pathway to improve his behaviour at school and prevent him from being permanently excluded.
The journey
When Aidan first attended his Training with the Champions non-contact boxing sessions, his coach noticed how shy he was – he barely cracked a smile or held a conversation. Even though Aidan struggled with communication, he fully engaged in the training side and slowly began to relax. 
"He loved his first few sessions, he can't wait to come and thinks Matt is great. He comes away after the sessions saying how positive he feels."

Aidan's mum
As the sessions went on, Matt and Aidan developed a close bond. Matt encouraged Aidan to become more in touch with his emotions and to communicate his feelings in a healthier way. Aidan could be very impulsive in school, so Matt focused on improving Aidan's decision-making and how to react more positively to tough situations.
His interest in the sport led to Aidan completing an AQA Award in boxing technique during his sessions, helping him develop skills for his future career.
The impact
Now that Aidan has an outlet for his anger and anxiety, he has become much better at embracing his tougher emotions and has hugely increased his resilience in the face of problems that come his way. Despite starting his sessions shy and uncommunicative, he is now well known in the gym, with his unique comedy and personality on display for all who meet him.
Aidan's behaviour both at home and in school have also greatly improved. The physical side of the sessions allowed him to channel his anger through the boxing and react more positively to tough situations that might arise in his personal life.
"Our sessions have provided a safe space free of judgement for Aidan to express himself, both though exercise and verbally. Looking back to those first few sessions with Aidan, I can see how confident he has become."

Coach Matt
Aidan's mum added: "Aidan is doing great since attending Empire, he loves his sessions so much. The last few months Aidan has turned his life around, he is now in a new school which is going brilliantly.  He is now on medication for ADHD and is now thriving in all aspects of his life.
"Boxing has been a life changer for Aidan, it's had such a positive impact on him. Aidan's relationship with Matt is fantastic, he really looks up to Matt, he will openly talk during his session to Matt, then come out of session and talk to mum.
"We really can't thank Empire Fighting Chance enough - we have our life back.
*Name changed to protect identity. Image used for illustrative purposes only and not connected to story.
THIS IS OUR FIGHT.
To find out more about Empire Fighting Chance's Training with the Champions mentoring programme, click here.
To refer a young person to Empire Fighting Chance, email [email protected]