Damson - Champion of the Month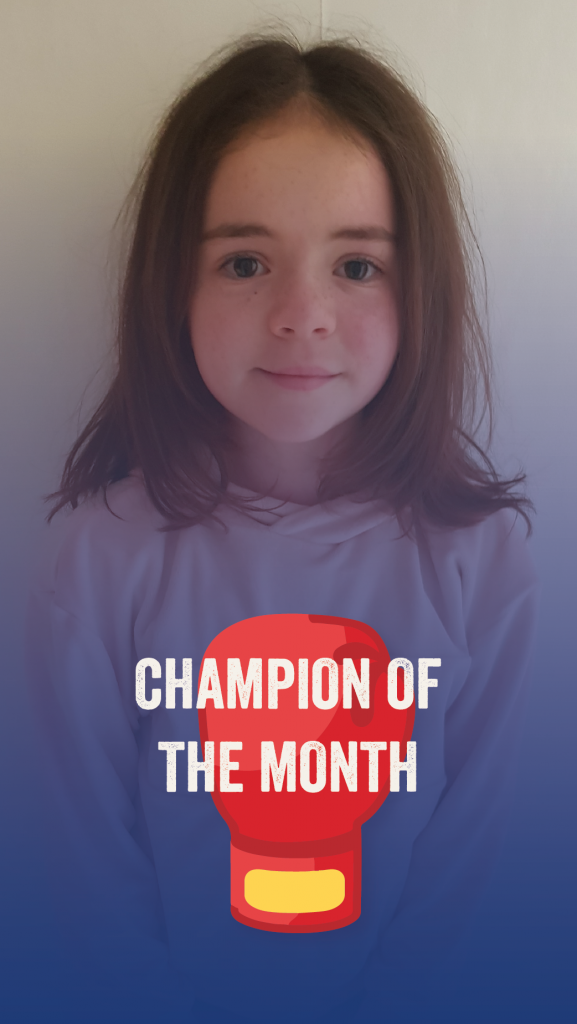 When Damson, a 10-year-old girl with autism, expressed an interest in giving boxing a try, at a time when she was struggling with anger issues her parents knew exactly who might be able to support.
Damson is a 10-year-old girl who for the past year has been working with a child psychologist and has recently been diagnosed with autism. She is currently awaiting a CAMHS referral through school, but other than that she is working with no additional agencies other than EFC.
When she expressed an interest in boxing, a very unusual thing for her to do, her parents very quickly got in contact with EFC to see what support the charity could offer. It turned out EFC could offer a great deal to Damson, and through her commitment to the programme, her resilience, her determination, and bravery, Damson has managed to improve her fitness, build strategies for her anger management, and help support her meltdowns.
Damson has found the lockdown period hard and has regularly struggled with motivation and enthusiasm. By forming a bond and relationship with her coach Ben she has been able to talk about this and worked on personal development points to help with motivation and daily tasks. Damson is a very creative young girl who often talks to Ben about the books she read, the marches she has attended, the forts of cardboard that she has been building, and her aspirations to be a designer in the future.
A future as a boxer is her fall-back option though now as "it seems fun"! with Ben supporting her she has a mindset now of I'm not feeling this, but I'll give it a go anyway.
Damson accessed her Training with Champions programme online during the Covid-19 lockdown period, so it is even more astounding that Damson has progressed so well with the programme and been able to find focus with it through this difficult national lockdown period. Not only that but she is also well on her way to completing her ASDAN Sport and Fitness Award. That is why Damson is Champion of the Month for July 2020.
Damson's Dad had this to say about her coach Ben and the Training with Champions programme –
"Thanks so much for the time, attention and great tuition you are providing Damson. You have a natural way with Damson that puts her at ease; she feels very relaxed with you which is an achievement. Damson is very easily distracted and can often give the impression that she is not present when she should be paying attention. The proof of a successful meeting with anyone, for Damson, is often not realised until the session is finished and discussed. Not to make too much of it but just to say that this is an empowering experience for Damson, to be able to feel proud that she can channel her endless energy and moments of frustration into a discipline, both physical and mental. So, again - thanks very much for all you have done with us currently."
Damsons Mum added - "She is proud of herself for having a skill, and she definitely brightens up after a session."